Carved Soapstone Scarab Beetle Necklace 600BC SOLD
---
Ancient Egyptian Handcarved Soapstone Scarab Beetle (Symbol of the God "Khepri") and Tubular Faience Bead Necklace.
26th Dynasty, Seventh Century B.C.
SIZE: 17mm length, 12mm breadth, 9mm thickness (dimensions exclude display stand)..
WEIGHT: 2.76 grams (amulet only).
Amulet mounted onto 30 inch faience "mummybead" necklace.
CONDITION: Excellent, almost entirely intact, exceptionally sharp detail preserved. Professionally conserved. Professional cleaning available upon request (reverse electrolysis) so as to restore "original appearance".
DETAIL: Feast your eyes on this 2,600-year-old scarab. Carved of soapstone and finished with a turquoise glaze of faience, it represents the ancient Egyptian god Kepri. Inspiration for the scarabs in two recent blockbuster films, Mummy and The Mummy Returns, it is mounted on a necklace of blue-green tubular mummy beads constructed of faience. The beads are between 3/4 and 1 1/4 inches in length and about 1/8 inch in diameter. The disk-shaped accent beads are about 1/6 inch in diameter, and about 1/12 inch in thickness. Long enough to fit over the head, the necklace is 30 inches in length, allowing the amulet to be displayed at mid-chest. This impressive combination may be worn with confidence and pride.
HISTORY: Faience glazed soapstone was favored by the ancient Egyptians, who associated the blue green color with the sacred Nile River, which they thought of as the giver of life. Exquisite specimens like this one are carved quite intricately and being of soapstone are often well preserved. Note that the underside of the scarab beetle is carved with a brief prayer in ancient hieroglyphics. The ancient Egyptians made faience beads and amulets by crushing quartz and mixing it with a coloring agent, most typically copper ore. The resulting paste was put into a mold, then fired. Under fire the quartz migrated to the surface of the item, fused and provided a shiny glaze. The fired copper lent the item blue and/or green hues, favored by the ancient Egyptians because they reflected the life-giving Nile River. Over the course of 2,500 years many amulets lose their glaze. Those areas no longer covered with faience will show the natural white soapstone material underneath. The color ranges from bright turquoise to a dark green, almost khaki in color. While not extremely rare, specimens with the entire glaze intact are the exception rather than the rule.
Though made in many sizes of many materials, including terracotta, wood, stone, bronze, silver, gold and sometimes precious gemstones, amulets were most often made of faience, which was truly the forerunner of glass. The second most popular substance was soapstone, also known as "steatite". Like so many other forms and mediums of ancient jewelry (Greek, Roman, Sumerian; bronze, gold, silver), faience amulets were mass produced for the Egyptian populace. It was literally "industry" for the wealthy, omnipresent temples of ancient Egypt. It is interesting to note that the state of preservation is sometimes due to as much to superior workmanship as to the circumstances of burial. Craftsmanship bespeaks an artisan's pride and abilities even now, 2,000 or more years later. On the other hand, an inferior product has more often than not survived as a crudely shaped, poorly featured object, coarse and undistinguished in nature.
The ancient Egyptian civilization was one of the greatest in the recorded history of the world. Talismans from this era are prized and collected 2,500 years later. The Egyptians worshipped many gods, which represented elements of the natural world, sky, earth, sun, and wind. Representations of these gods took the form of animals or animal/human figures. These amulets were worn on the body to protect in life. They also gave magical powers to the dead, fitting them for the afterlife. The Egyptian Book of the Dead instructed that 104 different kinds of amulets be buried with the preserved body for the life after death journey. These amulets were wound within as many as 80-layers of linen burial cloths. Thus, the mummies of distinguished citizens possessed literally hundreds and hundreds of amulets representing significant Egyptian deities.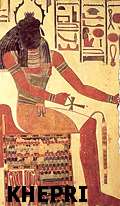 It's no wonder the ancient Egyptians ascribed magical powers to the common dung beetle, which laid its eggs in animal dung, then rolled them into balls and pushed them across the ground. The fascinated Egyptians saw the eggs hatch and came to associate the clever dung beetle with renewal, rebirth and resurrection. Because of their relentless pushing of the orb of dung, the beetles became associated with Khepri, who as Sun God, was charged with renewing the sun each day before rolling it above the horizon and carrying it to the world below at night. Khepri has various representations, including the scarab, a man with the face of a scarab, and a man whose head is surmounted by a scarab. In this way, a lowly beetle became a symbol placed in tombs as the promise of new life. Scarabs eventually became one of the most important funerary amulets. "Heart" scarabs incised with a prayer would oftentimes be placed over the heart or throat before the mummified remains were wrapped in the burial shroud (as many as 80 layers of linen).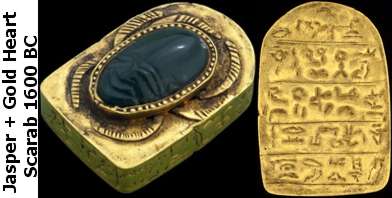 Ancient Egyptian amulets remained buried for between 2,500 and 3,000 years before they were unearthed inside tombs discovered within the last two centuries. Usually they are between one-half and two inches in size. A focal point of their lives and their beliefs about life hereafter, amulets were commonly worn about the neck by the ancient Egyptians. The beads on which they were suspended were most often made of faience in colors ranging from tan to jade green to cobalt blue. Though the material on which the beads were strung disintegrated over the eons that passed, the beads survived. As presented here, the beads and the amulet are re-strung on modern filaments, assuring a distinctive combination you can wear with pride.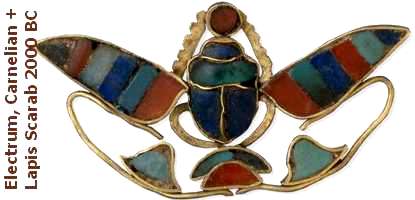 SHIPPING: These antiquities come from a number of collections which by and large originated here in Eastern Europe. As well, additional specimens are occasionally acquired from other institutions and dealers, principally in Eastern Europe and the Eastern Mediterranean. All of these artifacts are now in the United States and are available for immediate delivery via U.S. Mail. All purchases are backed by an unlimited guarantee of satisfaction and authenticity. If for any reason you are not entirely satisfied with your purchase, you may return it for a complete and immediate refund of your entire purchase price. A certificate of authenticity (COA) is available upon request.
Our order fulfillment center near Seattle, Washington will ship your purchase within one business day of receipt of your personal check or money order. If you wish to pay electronically, we accept both PayPal and BidPay. However we ask that you PLEASE WAIT before remitting until we have mutually agreed upon method of shipment and shipping charges and you understand our PayPal limitations and policies (stated here). We will ship within one business day of our receipt of your electronic remittance.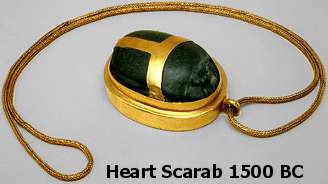 A certificate of authenticity (COA) is available upon request. We prefer your personal check or money order over any other form of payment - and we will ship immediately upon receipt of your check (no "holds"). Please see our "ADDITIONAL TERMS OF SALE."